We're counting down to Christmas Day with a list of 25 records we have in the shop at Royal Cat Records! Why? Because vinyl rules!

Our next record is kind of a rare gem from one of the most infamous Canadian labels!

#20

Country Christmas
by Various Artists
Arc Records/Arc Sound
AC-9

This is kind of a rare record. It's an early offering from a pure Canadian institution.
We have a special place in our hearts set aside for ARC Records, the budget Toronto label famous for its country output and ripoff pop records made to cash-in on trends in the U.S. music industry. There were a surprising number of great records produced by this label, including some rock records, although the vast majority of their output is pretty lacklustre. But it is the album sleeve design that we have come to appreciate as an example of a "classic Canadian aesthetic." Overall fairly generic, their covers are nontheless often bold and colourful with simple graphics and clear iconic layouts. Their basic, stylish lettering is usually a variation on 2 or three fonts and their liner notes are very bare bones, either non-existent or almost so. Usually penned by an ARC executive or a forgotten local dj and typeset using a typewriter, they are charming paeans to obscure Canadian country performers or long-gone lounge acts.

The album at hand is a perfect example, sporting a beautiful yellow cover with red and green highlights, and a black and white clip-art style 1950s cowboy couple in the bottom right corner. Canadian vernacular album design perfection!

The tracks are typical of an Arc offering as well. No songwriting credits are usually given on these records. Most of them are covers of Christmas standards but they show a professionalism and zippiness unique to this sort of low-budget production. The lead track, "New Baby For Christmas," is a peppy number with a good steel guitar solo and fun lyrics: "she'll kiss me on a hayride and take me on a sleighride and turn my white christmas to blue." "Christmas Roses" is a slow waltz about a long-distance romance with some more nice steel. The only clunker here is "Jolly Old St. Nick" —it kind of has the structure of a love ballad/hurtin' song but it's from the pov of a dumb little kid in the form of a half-talking letter to Santa about filling his stocking.

The highlight of the record are the numbers by June Pasher. Pasher, the pride of New Waterford, Nova Scotia, was a fixture on the Toronto country scene from the 1950s through the 80s, with long residences at The Horseshoe Tavern and other venues. She and her husband also had a couple solo LPs on Arc. "Silver Bells" is June's solo number here, a nice Patsy-Cline style version of one of our favourite Xmas tunes. She also teams up with her hubby George Pasher for a quality duet on "White Christmas." A fun little package that you never see in the wild!
June Pasher and the boys: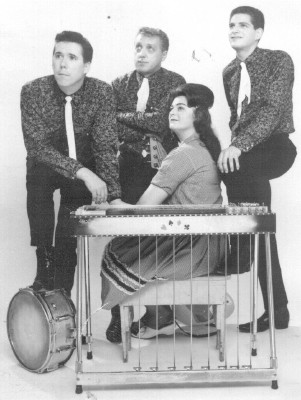 A non-Xmas song from June Pasher:
AC-9